Welcome to Indy Aquatic Masters!
2020 USMS Club of the Year!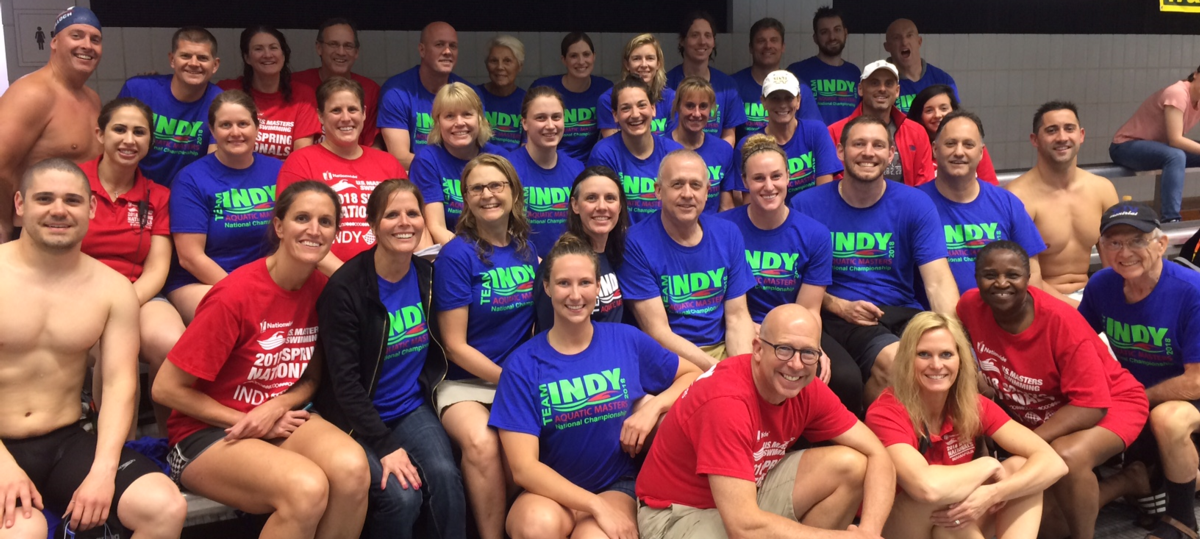 Indy Aquatic Masters is an award-winning aquatic fitness program that promotes healthy lifestyles through the sport of swimming. We are a registered U.S. Masters Swimming Club with Gold Club status and open to all adults ages 18+ with all levels of swimming ability. Our program offers a Masters Swim Club and Adult Learn-To-Swim lessons in multiple locations throughout the Indianapolis metro area. Anyone interested in swimming with a group of dedicated swimmers or in search of swim lessons is encouraged to explore our program and the benefits we offer. Our program will help YOU reach your GOALS, whether you are new to swimming or an avid fitness, competitive, or multisport enthusiast!
ANNOUNCEMENTS
COVID-19 Health and Safety Update: Beginning Monday, October 26th, we are revising our start and stop positions between swimmers during practices. Swimmers will now be five yards apart. One swimmer on the wall, the second swimmer at the flags five yards from the wall, and the third swimmer ten yards from the wall. Opposite ends of the pool will be used as usual. 
Featured Stroke Drill Videos of the Week - FREESTYLE: view the drills that we will be working on in practice this week!
The 2020 IAM Donation Campaign is underway! Please consider supporting IAM this year.
Holiday Classic Masters Meet, Dec 6th, IU Natatorium. Entry DEADLINE, Tues, Dec 1st!
IAM awarded the 2020 USMS Club of the Year Award!
For NEW, RETURNING, TRIAL, or VISITORS: Before you attend your first practice - 1) Review

Safety Plan for all locations

, 2) Complete the

COVID-19 Liability Release and Safety Agreements

, and 3)

Reserve your spot

at practices. 
IAM Donation Campaign:

 Please support IAM!